The purpose of application Engineering Calculator
Engineering Calculator is drilling engineering software that contains the most useful utilities for drilling and mud related calculations in the field while drilling and workover. This program includes a set of calculation and auxiliary tasks, convenient reference database and task data versions storage, allow to user input/output data in custom units of measure.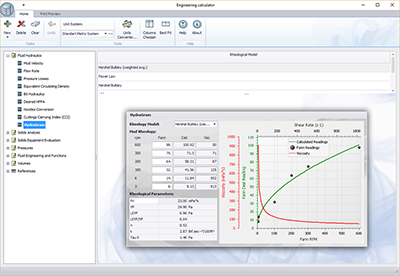 Engineering Calculator ensure the implementation of the following types of calculations:
Fluid hydraulics (mud velocity, flow rate, pressure losses, ECD, bit hydraulics, CCI, nozzles conversion).
Solids analysis (oil base mud, water base mud, formate mud).
Solids equipment evaluation (Hydrocyclone, Centrifuge).
Pressures (fracture gradient, kill sheet, leak-off test, overbalance mud weight, maximum allowed SICP).
Fluid engineering and functions (mud weight up, cut mud weight, mix few muds (final density), mud blending (desired density), adjust oil water ratio and water phase salinity).
Volumes (pipes, wells, annular section, tanks, evaporation rate).
In total, the program solves more than 40 settlement problems.